Hi,
I'm Ms. A and I'm a Clipart-A-Holic.
Don't you just love clipart. I love all kinds…digital, on a disc, in a clipart book…you name it I collect it. And I LOVE LOVE LOVE making free stuff for my blogging friends.
I've posted before about subtizing. It's a fancy word that translates to students being able to look at a group of objects and know how many there are without counting from one.
Well, I thought why not start with dice. How many times have you seen your students roll a die or dice and count from one…we don't want them to do this. I want them to be able to see this:
Or look at this: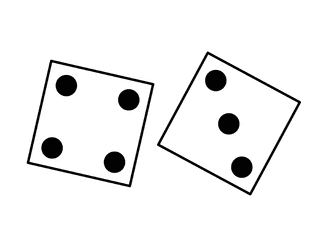 and know it's seven.
This goal and the fact I just bought some cute clipart has led me to this Number Sense activity I've created just for you my wonderful blogging friends. This would be a perfect beginning of the year math station activity. All you need are chips…I've even included three dice patterns for you, so you can change it up.
Students roll the die you've selected or they can choose themselves, and cover the picture on their game board of the die that matches the number they rolled. Students can play until all boards are filled up…you don't have to have a winner. The goal is to get them to recognize the configuration of the dots and know instantly that they rolled a four or a six. This is just a start…I'm working on more. In the meantime click on the picture to grab your copy.
Please, please, please if you download consider following me and/or leaving a comment…a little feedback is a great thing.